Tapbots, the company behind the now-defunct Twitter client Tweetbot, today launched Ivory, an application designed for use with the Mastodon social network.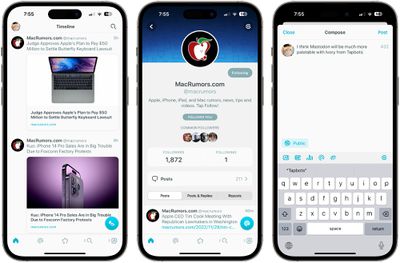 Available for the iphone and the iPadIvory has been in testing with a limited number of beta testers since the end of November, but with Twitter officially ending API access for third-party Twitter apps, Tapbots sped up development, opting to release an early version of Ivory.
Ivory has a Tweetbot-like design that will be immediately familiar to Tweetbot users, and offers the same general interface with tabs for a home timeline view, mentions, notifications, profile, lists, and more. There's support for multiple accounts, content warnings, muting, and polling, along with bookmarking, trending posts, post statistics, gif access, and options to view local and federated timelines.
Ivory includes different themes and app icons like Tweetbot, and now that it's the only social network Tapbots is focusing on, improvements can be rolled out at a rapid pace. As of now, the app doesn't have all the features that Tweetbot did, but there is a development roadmap. available on the Tapbots website.
Profile editing, post editing, improved hashtags, improved notifications, and an improved navigation bar are on the horizon.
Ivory is free to download, but all features can be unlocked for a subscription fee of $1.99 per month / $14.99 per year. [Direct Link]
For those who have transitioned to Mastodon from Twitter, MacRumors has a mastodon account where all our stories are shared.